Immune Boost
Regular price
Sale price
$16.79 USD
MSRP: $27.99
Unit price
per
MONTHLY SUBSCRIPTION BENEFITS
Free shipping for subscription orders over $25 (after discount applied)
Easy cancellation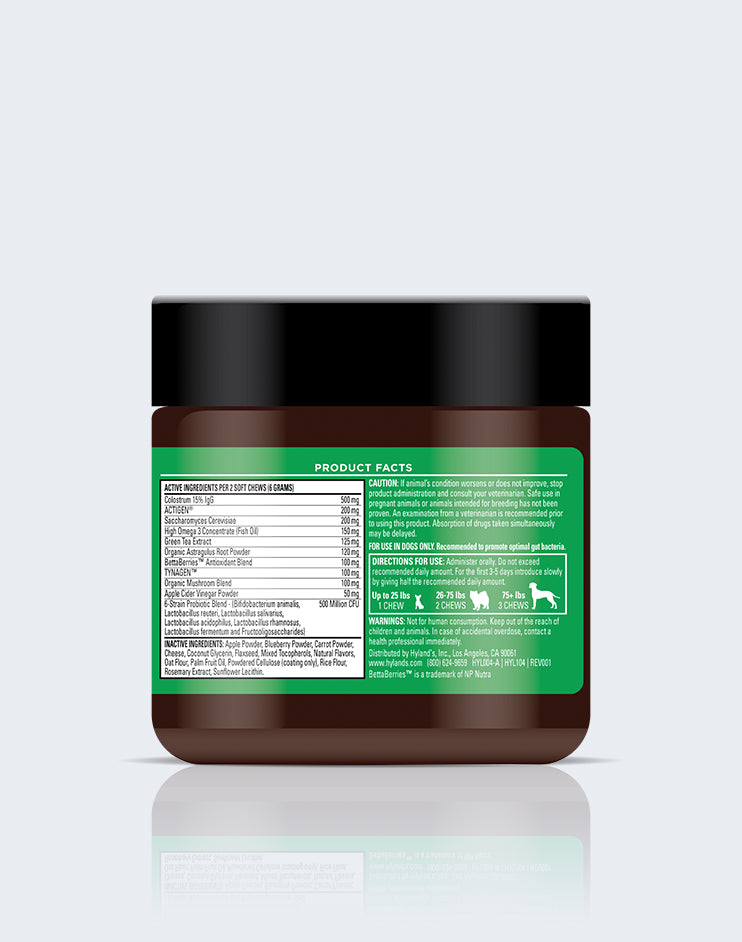 Find near you
Immune Boost
Support for Immune System, Gut Health, & Seasonal Allergies
Total health starts with a healthy guy. These chews containe pre-, pro-, and postbiotics to promote optimal gut bacteria balance. Combine that with antioxidants & omega-3s, and your pup is definiely getting a boost!

Active Ingredients:

Colostrum 15% IgG, ACTIGEN®, Saccharomyces Cerevisiae, High Omega 3 Concentrate (Fish Oil), Green Tea Extract, Organic Astragulus Root Powder, BettaBerries™ Antioxidant Blend, TYNAGEN™, Organic Mushroom Blend, Apple Cider Vinegar Powder, 6-Strain Probiotic Blend - (Bifidobacterium animalis, Lactobacillus reuteri, Lactobacillus salivarius, Lactobacillus acidophilus, Lactobacillus rhamnosus, Lactobacillus fermentum and Fructooligosaccharides).

Inactive Ingredients:

Apple Powder, Blueberry Powder, Carrot Powder, Cheese, Coconut Glycerin, Flaxseed, Mixed Tocopherols, Natural Flavors, Oat Flour, Palm Fruit Oil, Powdered Cellulose (coating only), Rice Flour, Rosemary Extract, Sunflower Lecithin.Lecithin, Sweet Potato.

Administer orally. Do not exceed recommended daily amount. For the first 3-5 days introduce slowly by giving half the recommended daily amount.

Up to 25 Pounds: 1 Chew

26-75 Pounds: 2 Chews

75+ Pounds: 3 Chews

CAUTION: If animal's condition worsens or does not improve, stop product administration and consult your veterinarian. Safe use in pregnant animals or animals intended for breeding has not been proven. Use with caution in conjunction with CNS depressents; do not use prior to anesthesia.

WARNINGS: Not for human consumption. Keep out of the reach of children and animals. In case of accidental overdose, contact a health professional immediately.